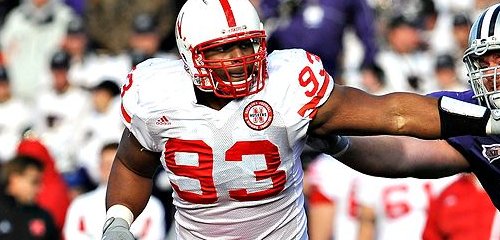 The two big names at defensive tackle are widely considered as standouts and most sure things in the draft. Despite this one of them was even able to impress at the combine while the other fell a little behind in comparison. The defensive tackles and defensive ends were for the most part a very fast and athletic group.
Most Impressive
Ndamukong Suh (Nebraska)
Distanced himself from Gerald McCoy by outperforming him and showing a competitive drive. He put up 32 reps on the bench press compared to McCoy's 23, out-jumped him in the vertical by five inches, and put up an almost identical 40 time.
Ricky Sapp (Clemson)
Sapp is one name being talked about a lot coming out of the combine. He answered questions about his recovery from knee injuries posting a quick 4.61 time in the 40 and looked great in the drills. He could end up as either an edge rusher in the 4-3 or move to OLB in the 3-4.
Lamarr Houston (Texas)
The defensive tackle weighed in at 305 lbs and then proceeded to run the 40 in 4.85 seconds. His vertical jump was great considering his stature. He looked good in the positional drills and has probably improved his stock to early third round consideration.
Thaddeus Gibson (Ohio State)
Showed a good combination of strength (32 bench press reps) and athleticism. Looked very natural in the conversion drills so he could be considered as either a 4-3 DE or move to OLB in the 3-4. He is considered to be a workout guy that hasn't reached his potential on the field so I'm not sure if any thoughts on him changed too much.
Jeff Owens (Georgia)
The big defensive tackle opened eyes when he turned in 44 reps in the bench press. 45 reps is the most any player has lifted since 2000. He then moved on to run the 40 in five seconds flat.
Disappointing
Gerald McCoy (Oklahoma)
It is unlikely his draft status will drop at all but he no longer appears to be a threat to jump Suh. He was outdone in the drills and his attitude is now being questioned as the impression has formed that he didn't take the combine seriously enough.
Carlos Dunlap (Florida)
Dunlap is known for his tendency to be very inconsistent in games with flashes of being a great pass rusher. I saw some of why this could be as he displayed some poor footwork and lacked good balance at times. His 4.66 40 time was good but didn't change that he'll need better technique to succeed at the next level.
Terrence Cody (Alabama)
Obviously he is being looked at as a 3-4 nose tackle which means athleticism is not the main focus though it is still a factor. He looked terrible running the 40 posting a 5.7 and awkward in the drills. He weighed in lighter than at the Senior Bowl but he skipped out on the bench press which has created only more questions about him physically.
Vince Oghobaase (Duke)
The defensive tackle looked very stiff and showed little athleticism. He ran a very slow 5.43 in the 40. Injuries appear to have taken a toll on his explosiveness.