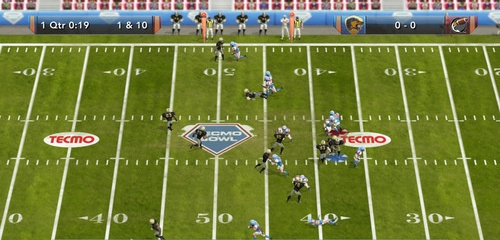 A while back I made mention of a Tecmo Super Bowl remake that has been in development for release on the XBL Marketplace and Playstation Network as a downloadable only title. Today Tecmo confirmed the game and released some details along with the first screenshots. The game will release sometime this spring though a specific date has yet to be confirmed. Head into the screenshot gallery to check out the images. It definitely has modernized and appears much sharper while still retaining the nostalgic feel.
Online Multiplayer: Find your old buddies online and challenge them to matches
2D + 3D Graphics: Experience all new 3D graphics with the ability to switch to the classic 2D style!
Customizable Teams and Rosters: Play as any of the 32 teams with customizable team names and rosters in full seasons
Online Leaderboards: Compare your stats in a wide array of online leaderboards
Classic Game Modes: Battle it out with your friends and kick off a game in Preseason, Season or Pro Bowl modes
This definitely has good potential as a multiplayer offering which is primarily what made Madden NFL Arcade successful. Tecmo Bowl Throwback appears to have more depth though and the nostalgia on its side, while obviously lacking the NFL license. What Tecmo is doing here, by bringing Tecmo Bowl Throwback to XBL and PSN, is what EA Sports should have done as well with the remake of NBA Jam. A Wii version of NBA Jam will release late this year with XBL/PSN versions probably arriving in 2011.
So what do you think of the early news about Tecmo Bowl Throwback and the first screens? Leave your thoughts in the comments!