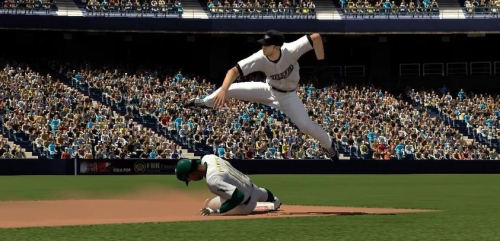 The Line Drive is a weekly collection of news, links, and updates that didn't necessarily warrant their own postings.
Many are already claiming to have pitched qualifying perfect games for the MLB 2K10 contest, going as far as to post pictures of the code that appears after doing so. 2K Sports will not be revealing the winner until June. Given the number of rules involved there is no way to know whether the $1 million contest is, in essence, already over.
Much has been made of EA Sports president Peter Moore's comments about digitizing the Madden consumer. This is nothing new though. DLC has become a staple, feature access through code inserts in new copies has been done for two years now, and Madden Ultimate Team is an example of the type of added content to not only make more money but keep people from parting with their copies.
IGN has posted a new producer interview that goes over a couple new features in 2010 FIFA World Cup. I've also added a few new screenshots to the gallery.
THQ has posted a new blog for UFC Undisputed 2010 focusing on stamina management and how it will play into the submissions this year.
News and content that may have been missed from around the site:
The reports from the NFL Combine are up in the NFL Draft section. A new mock draft, taking into consideration early moves in free agency and trades, will be out this week.