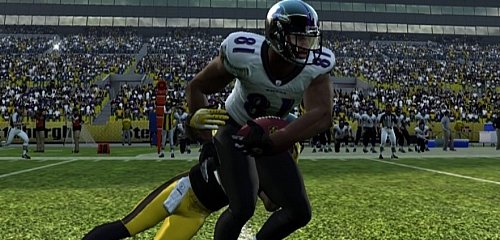 Coming out of a media event held yesterday are some hints towards the focus for Madden 11. While we now know that NCAA Football 11 is centered on "core experience, authenticity, and innovation" Madden is being described as "simpler, quicker, and deeper".
Citing different statistics collected through Madden 10, including one that put the average game length at 63 minutes, EA Sports is hoping to compact that or provide options to ease the strain on gamers. An hour long is understandably just too great of a commitment for many to take on. According to EA, of those 63 minutes, only 17 were spent during on-field action. The rest was in navigating plays and menus or through presentational elements.
Hopefully EA doesn't take this to mean that quarter length needs to be shortened. All that does is pressure people to pass more, which results in more incompletions and clock stoppages. The limited number of possessions puts more pressure on the user to conserve time therefore defeating the whole purpose of shortening quarters. The accelerated clock with longer quarters seemed to provide a really nice balance in Madden 10.
What will hopefully be done is to provide different options such as in-game saves which has been on the to-do list but missed the cut for the past few years. A quick-play option to skip through the presentation that slows the pace down would also be beneficial, we've seen the baseball games go this route.
There is also discussion about the streamlining of playbooks, as the average gamer only used 13 plays out of the hundreds available. Ultimately people are going to get comfortable with a handful of plays especially when the playbooks are all relatively similar. I think a great addition, one that has been discussed before, would be custom playbooks. If people could construct their own playbooks from the wide array of plays included in the game (not necessarily create new plays) then it would be much more likely that person would mix up their play selection as well as know where to find each play when they are looking for it.
What do you think about EA laying out the plan for Madden 11 to be "simpler, quicker, and deeper"? What would you like to see done to accomplish that? Leave your thoughts in the comments!