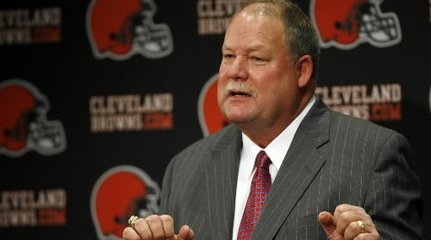 The major shakeup that Mike Holmgren is making in Cleveland is leading to a higher probability of trading up in the first round to grab either Sam Bradford or Jimmy Clausen. Today Holmgren even said that the team would consider drafting a QB at #7 or trading up to get one. The Browns have amassed a ton of draft picks as they now hold 12 of them including three third rounders. That surplus of draft picks sounds great but it would be a lot to ask to pay every one of them.
Looking at the draft value chart the Browns would need to give up a third rounder in order to swap picks with the Chiefs. That would put the Browns at #5 and in position to take one of the QBs if available, most likely Jimmy Clausen in that scenario. The Chiefs would be able to draft a left tackle at #7 such as a Bryan Bulaga. This is an idea I first floated in my last mock draft and would be aimed at getting ahead of the Seahawks would could be looking to take Clausen or trade their pick to a team that wants him.
Moving up to #3 to jump ahead of the Redskins would cost 700 points in the draft value chart. That is the equivalent of a late first rounder, so something along the lines of a 2nd and 3rd rounder would be the value they would have to give up to do so. Should both Ndamukong Suh and Gerald McCoy go at #1 and #2 then the Bucs would probably be open to dropping down. That would mean Cleveland in all likelihood would be targeting Sam Bradford before the Redskins could grab him.
The Browns now have Seneca Wallace and Jake Delhomme, either one of which could be asked to hold down the fort for a year while a rookie QB is groomed to take over. Which one has the inside track to be the starter is up in the air right now. Delhomme has been paid like a starter, getting $7 million for the first year of his two year contract. Wallace though has knowledge of the offensive system that is being transitioned to.