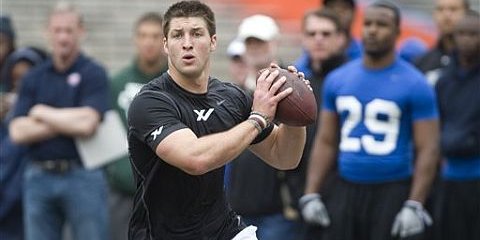 Probably the most anticipated and scrutinized Pro Day this year was held yesterday for Florida Gators players with names such as Tim Tebow, Joe Haden, Carlos Dunlap, and Aaron Hernandez working out for scouts. Based on reactions out of the workouts the players impressed with the exception of Brandon Spikes.
Unveiling his new throwing motion most reports out of the Pro Day were positive for Tebow. Ultimately it probably didn't change opinions for teams that didn't like him to begin with but may have put those who are intrigued at ease. He looked good but no one knows how it will translate in game situations. It is appearing more and more likely that Tebow will be selected somewhere in the second round, possibly the first half of the second round.
Tebow has individual workouts scheduled with Buffalo, Seattle, Cleveland, Washington, and New England. The Seahawks are unlikely to draft a QB now that they traded for Whitehurst, but the other four could take a shot on Tebow. Just as likely some other team, Jaguars or Bengals or a complete surprise, may end up choosing him.
Joe Haden re-established himself as the top corner in the draft by running a 4.41 40. At the combine he ran a 4.60 which had caused his stock to slip, corners without elite speed just aren't drafted in the top half of the first round. He now can be talked about again as a potential top 10 pick and probably a lock in the top 15. Brandon Spikes on the other hand has taken a hit and is now at best a third rounder with his 5.1 in the 40. Because of his lack of speed he will not be viewed by teams as someone who can stay on the field in all downs and situations.