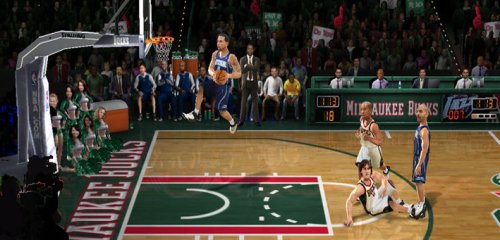 EA Sports has released another set of screenshots for the remake of NBA Jam. The five new screens can be found in the gallery. The Wii exclusive game (XBL/PSN next year) still does not have a set release date but is expected out in the October-December quarter.
When EA Sports first introduced the voting for which three players to include from each team it seemed like a nice way to involve the fans. That was before the release date being late in the year was known though, largely invalidating any results given that many players will be on different teams next season. Despite the uncertainty Gilbert Arenas was actually left off the list of options when the Washington Wizards came up. First Cuts contacted them about the omission.
Gilbert's omission from NBA JAM voting is the product of production deadlines and Gilbert's current inactive status as a result of the suspension. As is the case with all of our sports titles, we'll continue to monitor the situation and have the capacity to update our in-game features via downloadable upgrades throughout the season.
Two things of note here. The first that, should Arenas be a part of the Wizards (or any team for that matter) at the beginning of next season, he will surely be on the NBA Jam roster. Second is that the game may offer roster updates. That is encouraging to hear because at this point they're talking about the Wii which is very often left out of receiving any post-release support.