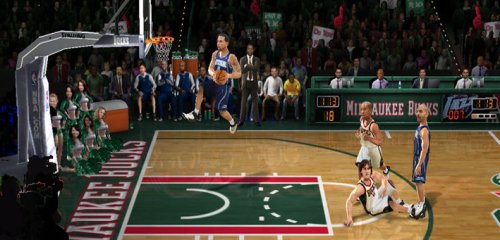 When EA Sports was questioned as to why Gilbert Arenas was omitted from the list of players to vote on for the rosters of NBA Jam, they were quick to point out that if he was left off the initial roster he could always be added later in a roster update. First Cuts has now received an updated response which backs off the suggestion that roster updates will be provided for the game. IGN has also noted that the game may not have any online support at all.
The team also isn't completely ruling out online play for NBA Jam on Wii. Though right now the game doesn't have online support, it wasn't a hard "no" when I asked if online was in the cards.
For anyone that wonders why dedicated sports gaming fans will never take the Wii seriously, the lack of post-release support and even simply the consideration that online play may not seen as a necessary inclusion are huge disappointments. These are standards that consumers expect now. It's especially understandable the frustrated reaction that came with the announcement of NBA Jam being on the Wii exclusively given news such as this, though it will eventually make it to the 360 and PS3 next year. While I had been looking forward to NBA Jam, as it would actually give me something to play on the Wii, the lack of online support would undoubtedly damage much of my interest in it.