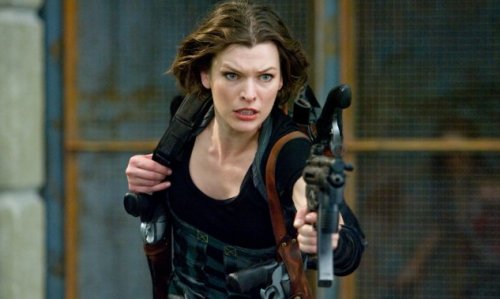 Coming out of WonderCon is the first look at Resident Evil: Afterlife through its initial teaser trailer. This represents the fourth entry in the franchise after the original Resident Evil (2002), RE: Apocalypse (2004), and RE: Extinction (2007).  Those three have all been profitable due to reasonable budgets. They combined to gross over $140 million domestically.
In a world ravaged by a virus infection, turning its victims into the Undead, Alice continues on her journey to find survivors and lead them to safety. Her deadly battle with the Umbrella Corporation reaches new heights, but Alice gets some unexpected help from an old friend. A new lead that promises a safe haven from the Undead leads them to Los Angeles, but when they arrive the city is overrun by thousands of Undead and Alice and her comrades are about to step into a deadly trap.
Most interesting is the news that the Afterlife has been filmed using the same camera system introduced and utilized by James Cameron in Avatar for the 3D. Resident Evil: Afterlife is slated to release on September 10th.