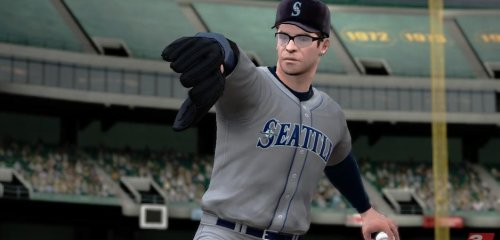 One of the most well received new features in NBA 2K10 was also introduced in MLB 2K10. MLB Today delivers dynamic commentary and statistics based on the real-life events taking place. With the season having just gotten underway I thought I would take MLB Today for a test spin last night. What I found was very impressive, though the question remains how much appeal there will be in playing one-off games over the course of the year.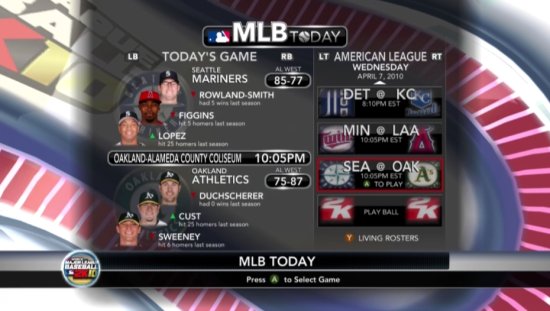 Easily the biggest win with the feature is in the area of commentary. References are made to the previous night's game, individual performances in the previous game or series, upcoming schedules, and more. I took note of many of the things said in order to check the accuracy and have listed some of them below. All of the statements made by the commentators and statistics displayed were accurate except for last game I played (NYY@BOS) which seemed to combine some stats from that very evening's completed game in with everything else.
Toronto @ Texas
Comment made about the Blue Jays being victim to a walk-off the night before.
Comment made about A. Lind having three hits in the previous game.
Comment made about it being Wednesday night.
Comment made about Blue Jays having lost the last game.
Seattle @ Oakland
Comment made about series being split so far.
Comment made about the Mariners having 10th inning trouble the night before.
Comment made about Figgins having a couple of strikeouts the prior night.
Upcoming games schedule for both teams.
Comment about Bradley having struck out twice the prior night.
Comment about Gutierrez having two hits the prior night.
Comment about Wilson being hitless in 12 at bats so far (with the 0-4 during the game)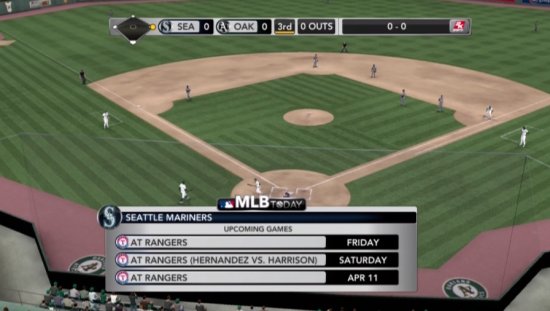 Yankees @ Boston
Comment made about Red Sox having lost the game the prior night.
Comment made about it being 1-1 in a four game set. – It was actually a three game series
Comment made about Nick Johnson being 0-9 in the series. – This included Apr 7 game
Comment about ARod being 0-3 against Lackey this season – This included Apr 7 game

General
Displayed and discussed upcoming game of the week as Sunday April 11th Yankees @ Rays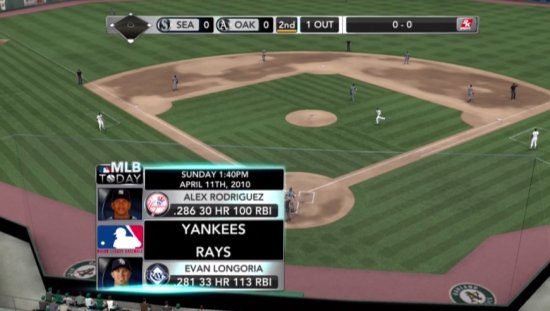 One thing that has not seemingly been activated is the updating of all the statistics that are being displayed. There is a confusing mix of current season stats and last year's stats. My initial reaction was that they must be waiting to update this area for when there are more games completed. It would be understandable since team rankings and league leaders would hold very little value so early in the season. At the same time I would rather have everything be uniform so hopefully that can be taken care of soon. The team records also are not updated with every team still showing as 0-0 or their record from last year. I haven't seen a display of season standings during the games yet.
Out of town scoreboards appear to be accurate however are not exactly real-time. Early in the evening I saw SF 10-HOU 4 and COL 4-MIL 5 which were correct finals. I also noticed NYY 0-BOS 1, and I assume that score was grabbed during the first six innings when the Red Sox led 1-0. That game though had been over for well over an hour by the time I was looking at it on the scoreboard. Then late in the evening I captured the OOT scoreboard which showed the late west coast games as though they hadn't even started.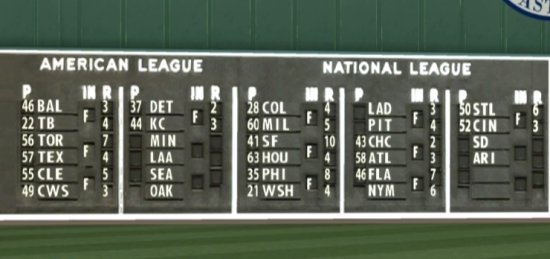 From what I noticed there are no changes to the introduction commentary prior to the game. Maybe the stats shown will be updated once more games are played. I expected something different during that time, but maybe I didn't try enough games to hear about things like the record in the current series. Or it could just be that those new elements don't make their way in at all until the games begin.
MLB Today requires a connection to the 2K Sports server. Naturally this is because all the data that applies to the games, such as starting lineups and season statistics, must be gathered and delivered via the online connection. The problem stems in that the 2K server is very unreliable. After I completed a second game last night I headed in to attempt a third and was met by a server down message. Because of this I was unable to play another MLB Today game until it was back up about an hour later.
MLB Today is not implemented in online ranked games. It appears you can invite friends to unranked games using MLB Today but I was not able to confirm that. It just remains a concern to me that the appeal of MLB Today could wane as the season goes on the new feel wears off, with little reason to play standalone play now games. However there is also the potential for these games to become more compelling as the drama of the season will naturally create more interesting commentary, rankings, and standings (such as the wild card race).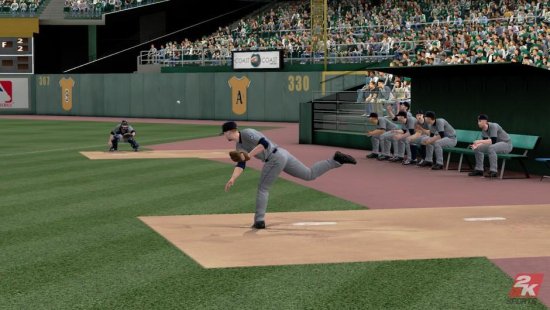 Overall I came away loving pretty much everything about MLB Today, with a call for some refinement. There does need to be some uniformity with this year's stats being displayed in all areas but outside of that it seemed to be mostly accurate. Both the statistics being displayed from the previous game and the commentary based on real life events from the season were dead on and enhanced the overall experience. I would hope that the feature will be expanded more in the future to different areas of the game, and with even more elements of dynamic commentary to keep things relevant and life-like throughout the year.