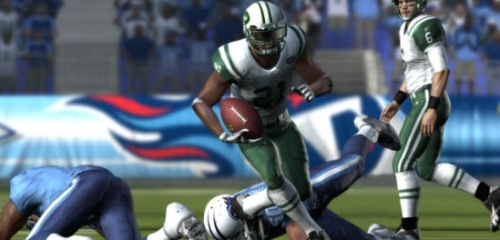 The voting for what demo matchup will be offered for Madden 11 opened on March 30th with the winner to be announced on April 22nd, the day the NFL Draft begins. It now appears that a call can be made on the race as the AFC Championship rematch of the Jets @ Colts has been way out in front and by now has established enough of a lead that a comeback by one of the other options seems to be very unlikely.
Once the voting period had settled in I started wondering why the Super Bowl matchup was in last while the Conference Championship games were battling it out for the lead, before the AFCC jumped out in front for good. Essentially it would seem that Colts and Saints fans are having their votes split since there are two options for them. That then led to which would be the stronger fan base of support between the Jets and Vikings. The New York market is inherently stronger and that is probably a big reason why the Jets-Colts matchup is well in the lead. There is also more intrigued involved with the Jets considering their acquisitions this offseason.
On another note I had suggested on Twitter an intriguing idea for the demo, which would be playing an overtime period with the new rules. As long as enough minutes were allocated (8-10 seems reasonable) to allow for all the different scenarios to play out it would be really fun to face the decisions and strategies that coaches will be making in OT. The demo would then be able to end on a first possession TD, go to sudden death if the first team doesn't score, or provide the the other side to try and tie or win on the next possession if the first ends with a field goal. Whether EA takes the suggestion on is uncertain but there did seem to be some mutual interest.
Soon after throwing the idea out there The Sports Geeks posted an article on what would be the perfect demo and made a compelling case for why an OT period would be ideal. It would essentially become a teaching tool for the NFL to educate fans. That certainly would be appealing to the league and EA Sports would capitalize on providing a fun and unique demo experience.