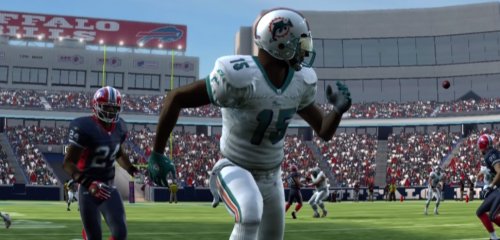 Brandon Marshall has been traded from the Denver Broncos to the Miami Dolphins in exchange for this year's second round pick (43rd) and next year's second round pick.
Marshall provides the Dolphins with an offensive threat that hasn't been delivered by top choice Ted Ginn, who himself is apparently being shopped. Considering how the AFC East has been getting better as the Jets stockpile talent the Dolphins needed an additional element on offense to help score points and keep them in games. In turn that could even help the already strong running game as well as well as Chad Henne as he continues to grow into the starting role. This also increases the chances that the Broncos could draft Dez Bryant who will actually be in town for a visit with the team today.
The Santonio Holmes and Anquan Boldin trades not only took teams out of the market for a receiver but it also altered market value. From all indications it came down to the Dolphins and Seahawks for Marshall's services and Miami was just willing to offer more. Holmes garnered just a 5th rounder while Boldin was exchanged for a third and fourth. Similarities between those two and Marshall include that they were entering the last year of their deal and had various concerns off-the-field (Holmes, Marshall) or with injuries (Boldin).
Getting two second round picks is more than I had though Denver would end up with. According to the draft value chart, by considering next year's second as a mid-third this year, that adds up to 660 points. That is the equivalent of the 28th pick in the draft. So the Broncos essentially ended up getting first round pick value.
Continue on to check out more screens of Marshall on the Dolphins. Leave your thoughts on the comments regarding the trade as well as the impact on Madden 11.