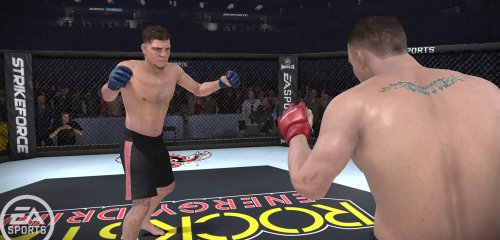 Located within a video promoting the light heavyweight title fight for Muhammed "King Mo" Lawal is some very early footage from the upcoming EA Sports MMA. Lawal faces Gegard Mousasi at the Strikeforce event this weekend. The gameplay footage first appears at the five minute mark and is found throughout the remainder of the video with the longest stretch being from 6:00-7:10.
The consensus seems to be, and I'd agree based on what is seen in this video, that the game looks good in terms of takedowns. But there is a lot of work to be done in areas such as striking, with the appearance is there isn't much of any force behind the strikes, and movement which looks awkward at times.
Given that the game is 6-8 months out from release that we have any sort of footage is unprecedented to begin with, so there is no need to over-scrutinize what we are seeing now. Certainly this is far from representing what the final product will likely offer but at least gives a glimpse in at how the game is progressing. Continue on to check out the video and leave your thoughts in the comments!
KING MO: JOURNEY TO THE CROWN from All Elbows on Vimeo.