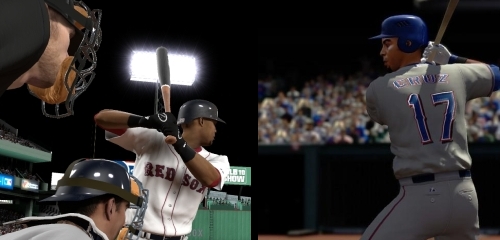 The first big sales news in the sports gaming world has arrived as NPD has reported the official numbers from March which include the opening months for MLB 10: The Show and MLB 2K10. The Show came in 10th for the month with 349,000 copies while 2K10 came no where near the top 10. We should find out by tomorrow whether it made it into the top 20.
Last year MLB 09: The Show sold 305,000 copies, which was an increase of over 37% from 08.  This year it rises another 14%. Given that the marketing wasn't particularly strong (at least until the commercials hit) and the demo wasn't even put out before release that is a solid first month performance. It was coming off what was largely considered to be one of the best sports titles this generation so an increase was sure to happen even just based off that. It will remain to be seen how sales will be impacted next year as consumer response to MLB 10 has been decidedly mixed which is in stark contrast to last year.
While The Show increased sales from last year it actually placed lower on the chart because March was such a strong month with the other games selling over 400K copies each. Last year The Show came in 6th and this year 10th. That really doesn't mean anything, all that matters are the numbers, but it goes to show why 2K10 wouldn't come anywhere near charting as 400K would be an unbelievable number for a baseball title to hit.
On the other end of the spectrum is the MLB 2K series. MLB 2K9 was one of only two yearly sports titles to see a decrease in year over year sales having dropped 14% to 205,000. As MLB 2K9 sales were negatively affected by a poor product and little to no communication and support with 2K8, MLB 2K10 was severely damaged due to the absolutely terrible 2K9 and the growing trend of consumer discontent towards the series.
Reasonable expectations had the game falling this year, probably by another 15-20% or so. Given that the number would then be around 170,000 the game may struggle to even make the top 20 list that gets released. The Perfect Game Contest may have been able to stave off some of the drop but that in itself was not going to bring back disgruntled consumers.
MLB 2K10 is far and away a better product than 2K9. But as seen with other annual titles it really takes several iterations before consumers are willing to hop back on board. Confidence has to be up and that is based on quality, value, and consistency, while the negative memories need to have faded some.
Remember that the Xbox 360 has a significantly larger user base than the PS3 but The Show continues to dominate even in the single console head-to-head sales. That caught some off-guard last year but was completely expected this time around. The PS3 sales of MLB 2K10 are surely inconsequential and even 2K Sports has shown they don't care about those consumers by stalling on providing a patch.
Looking at consumer response to the games this year both may be facing more difficulty in drawing purchases next time around. MLB 11: The Show has to provide something new to the experience and fix online play, while MLB 2K11 must continue to rebuild, improve, and provide a consistent and fun experience. What we've seen here is primarily the result of established consumer confidence, or complete lack of confidence, based on the last few years and where many have come away disappointed with 2010's offerings they will be looking for more out of them come 2011.