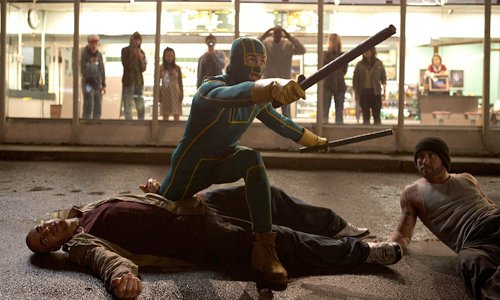 Two new entries hit the box office this weekend that have high levels of awareness and expectation. Kick-Ass has been getting a lot of attention based on moviegoer response while Death at a Funeral presents a remake of a film just three years old. Both should do well, with Kick-Ass having an extremely strong long term prognosis and the potential to be a breakout hit.
Opening to high levels of anticipation is the comic book adaptation Kick-Ass. Having seen the movie almost six weeks ago it has been someone agonizing the wait, because I've been looking to share in the experience and excited to read the reactions from everyone who sees it. If you haven't already make sure to check out my review.
There is some controversy about the film given its extreme levels of graphic violence, much of which is inflicted by an 11 year old female character "Hit Girl". If anything all the talk about that could increase awareness and interest. Reviews have been very good, with the exception being those reviewers who are judging the film based on "morals" rather than its merits.
The two movies most cited when discussing Kick-Ass have been The Matrix and The Dark Knight. Some have branded Kick-Ass as the best comic book movie ever made, and it certainly has some darker elements and a more grounded nature that largely become more popular beginning with TDK. When it comes to The Matrix it seems to be the element of surprise along with being R rated. Not many knew exactly what to expect with The Matrix when they walked in, but then they walked out wowed at what they had just experienced. That has been similar to the reactions that Kick-Ass has gotten.
This is a hard R rated movie, which makes it particularly tough to market. The early screenings though have created a wave of buzz and fantastic word of mouth. That is going to carry the film, which even without a humongous opening weekend has the potential to bring in strong returns over the coming weeks and set itself up as a potential franchise. Look for Kick-Ass to pull in about $32 million this weekend.
Also opening is Death at a Funeral which is directed at the urban demographic. A remake of the well-liked but little seen British film from just three years ago the cast (which includes Martin Lawrence, Tracy Morgan, Chris Rock, and Zoe Saldana) have strong followings which are sure to turn out and support the film. Reviews have been mixed, but the target audience would be unlikely swayed one way or the other based on reviews anyway. Death at a Funeral could come away with around $20 million.
Opening Predictions
Kick-Ass: $32 million
Death at a Funeral: $20 million