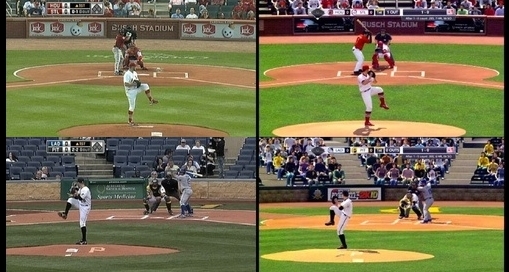 The Line Drive is a weekly collection of news, links, and updates that didn't necessarily warrant their own postings.
Owen Good at Kotaku digs into MLB 2K10 to provide camera settings to match the look of broadcasts for each individual stadium.
Lists of Xbox 360 Achievements are out for Backbreaker and Tecmo Bowl Throwback. Both feature a multitude of achievements that are almost embarrassingly easy to pick up.
Two additional mascots added for NCAA Football 11 are "Cam the Ram" from Colorado State and "Jay" from Kansas. Images can be viewed in the gallery.
ESPN has an interview with UFC 2010 Undisputed cover athlete Brock Lesnar. Included are two new screenshots featuring Lesnar in action.
I'll now begin dropping occasional plugs leading up to E3 and then Comic-Con. Make sure to follow me on Twitter and become a fan on Facebook. While on the show floor I will be posting pictures and uploading quick videos to those places, before getting the opportunity to update the site more with comprehensive postings.
News and content that may have been missed from the last week around the site.
More details in a few days but expect a live blog during the NFL Draft which will incorporate Madden 11 rookie screenshots, ratings, and general thoughts on the draft.