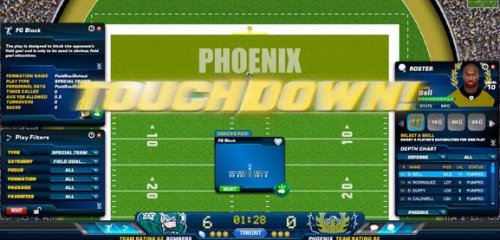 Quick Hit Football, the free browser based football management sim, has announced a new representative that will be featured in the game for the 2010 year. New England Patriots wide receiver Randy Moss has signed on to appear as one of the five 'Starters' which are comprised of current NFL players.
Moss, who holds the NFL single season touchdown reception record, is the perfect player to lead Quick Hit's team of Starters given his speed and agility – two core elements of Quick Hit Football game play. In addition to his virtual persona in the game, Moss will also be lending his football expertise to the Company as a new member of its Advisory Board.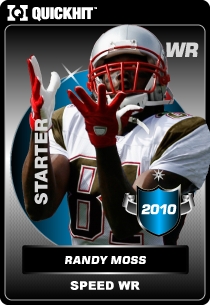 There is a loophole in the the NFL license that allows for a game to utilize up to five NFL players, those must be negotiated with on an individual basis. Quick Hit had its five last year with Ray Lewis, Matt Cassel, Brian Westbrook, Jason Witten, and Osi Umenyiora. Those players will be subbed out as new ones join the game. The arrival of Moss means the departure of Umenyiora. The other new additions will be announced on later dates.
The game still features big name former NFL coaches along with a large number of NFL "legends". The team that works on Quick Hit includes former Madden, All-Pro Football, and NFL 2K5 developers. You can check out the game by visiting the official website.