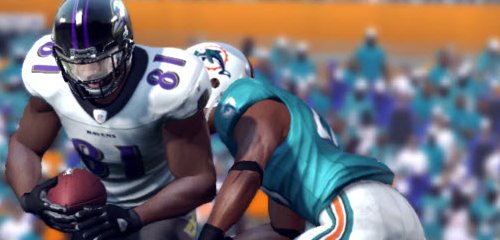 Following a hands-on event held last week in New York, EA Sports has lifted the embargo on impressions and they are coming in from numerous locations. Much of the discussion throughout the previews centers on the GameFlow play-calling system and locomotion engine, however there are a few mentions of big changes to the game that are mixed in as well.
Gamespot:  Other noticeable changes in Madden include a new kicking meter and increased use of the D pad. Instead of using the right stick to kick, you'll have a horizontal meter that appears onscreen. After aiming your direction arrow, you press a button to set a cursor in motion on the meter, hit the button once the cursor is on the right side of the meter to gauge power, and hit the button a final time once the cursor returns to gauge accuracy.
Kotaku: Gameflow will talk you through the best plays on offense, removing the need to go through the game's dense playbook in order to pick what your next strategy will be. Gameflow — which, again, is optional — can do it for you. When Kotaku tried it, there was no need to select plays. Before each offensive play, a text box would appear, naming and describing the next play. A recorded voice through the headset would describe the play. A schematic of the play would show up on screen, with icons representing controller buttons showing the play's planned routes for several players, the ideal one marked in red.
Destructoid: In addition, Cummings told me that "run blocking has received a major overhaul." Cummings showed me a visual representation of this: you'll see the assignments of your offensive linemen laid out in the pre-snap play art. And when I ran a sweep, I noticed that my lead blocker who was pulling to the outside no longer peeled off his man and left him free to tackle me; instead, he remained engaged in a block.
Operation Sports: The most surprising addition to Madden 11's gameplay is actually a subtraction: the removal of a turbo button (off by defaut, can be turned on). Taking a cue from EA's successful NHL franchise, Madden 11 no longer requires players to spam a turbo button in a desperate attempt to create offensive separation or track down an elusive player on defense. Instead, player speed and acceleration are completely tied to ratings.
ESPN: Each play call is situation based, and if you're hardcore into the X's and O's, you can go into the playbook and swap in up to 15 plays per situation, weighing them for the frequency you'd prefer the coaches to select. Adds Strauser: "We have different sheets like 2nd and long, 3rd and short, and you can go in and put the plays you want in there. But if you don't want to go through the trouble, each team will have their accurate plays in their game plan right from the start."
So, the two significant previously unknown developments out of these previews is the removal of the sprint button and the revamping of the kicking game. It's difficult to visualize the change to kicking based on the description but something different had to be done to make it more of a challenge. The removal of a sprint button will probably elicit a mixed reaction, doing so turned out well in the NHL series but how it will translate to football remains to be seen. What do you think of these changes? Leave your thoughts in the comments!