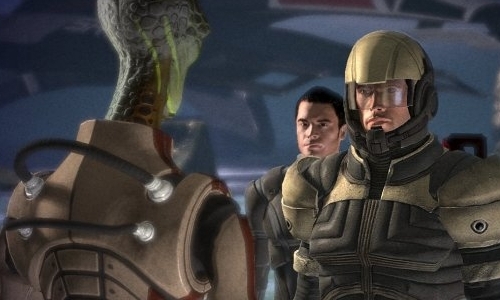 Legendary Pictures announced today that they have acquired the rights to the Mass Effect video game series. Mark Protosevich is now in discussions to pen the script. Protosevich is best known for writing the screenplay for I Am Legend and the now-shooting Thor. Legendary has a good track record having backed films such as The Dark Knight, 300, and The Hangover. They recently picked up the rights to Godzilla as well.
Game synopsis: The galaxy is trapped in an endless cycle of extinction. Every 50,000 years, an ancient machine race invades the galaxy. With ruthless efficiency, the machines wipe out all advanced organic civilization. They leave behind only the scattered ruins of technology, destroying all evidence of their own existence. The fight to stop this extinction event has become the most important mission in the galaxy. As Commander Shepard of the SS Normandy, you will take your elite recon squad across a galaxy in turmoil, in a desperate race to stop the return of an enemy without mercy. To stop this enemy, you must act without remorse, without hesitation, and outside the limits of the law. Your only imperative is to preserve the safety of civilized life in the galaxy – at any cost. You must become the tip of the spear of humanity, for you alone know the full extent of what is at stake if you should fail.
Mass Effect released in November 2007 and Mass Effect 2 hit stores back in January as Xbox 360 exclusives. The trilogy is expected to conclude with a release in 2011. The movie is being planned to arrive in theaters sometime in 2012.