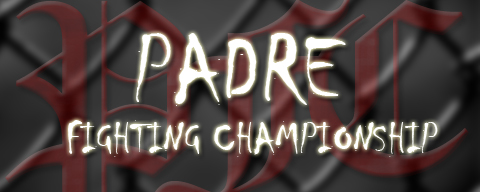 With the release of UFC 2010 Undisputed today here is the announcement of the fighter assignments for the Padre Fighting Championship league. We still don't have the exact structure of the league determined quite yet as that largely dependent on how well the online features work and the amount of flexibility they provide.
For the time being we will be monitoring online performance (early reports of issues with severe lag are troubling) and testing out the Fight Camps feature before laying down the parameters. We are also looking at holding a tournament with a few prizes attached to go to the winner along with potentially a slot in the elite fight camp.
There are still plenty of fighters available so if you are interested sign up in the forum (this is for the 360). We'll be looking to balance the divisions out a little more so going with a fighter in non-LHW would give provide the best chance of getting in ASAP. Continue on for the initial roster of fighter assignments.
HW:
Junior Dos Santos: DontMixMyGreens
Antônio Minotauro Nogueira: Johns Tha King
Brock Lesnar: ptwaugh
Kevin "Kimbo Slice" Ferguson: BWIGGZ
Shane Carwin: jsauber1725
Cheick Kongo: NoFro90
Cain Velasquez: SeussOfVA
Todd Duffee: ac3boogie 253
Brandon Vera: YoungGun85
Andrei Arlovski: Tapout MMA King
LHW:
Anderson Silva: XiX FaTe XiX
Rashad Evans: arod 111
Lyoto Machida: SoonerTEX
Quinton "Rampage" Jackson: EdNick30
Jon Jones: im winnin
Rich Franklin: BigBuckeyeBoi
Vitor Belfort: JerkFaceFave
Chuck Liddel: July 4 1776
Tito Ortiz: conwaywest22
Ryan Bader: JORGE2609
Dan Henderson: Killakrok
Wanderlei Silva: Alsolidus
Mauricio "Shogun" Rua: OhTheBagger
Brandon Vera: YoungGun85
Wilson Gouveia: Jimmyy201
Forrest Griffin: LuckiestDreDog
MW:
Anderson Silva: Xi FaTe XiX
Rich Franklin: BigBuckeyeBoi
Vitor Belfort: JerkFaceFave
Yushin Okami: badams2144
Dan Henderson: Killakrok
Chael Sonnen: micnificent28
Wanderlei Silva: Alsolidus
Alan Belcher: graydle
Patrick Cote: Satchmo Davis
Nate Marquardt: StetskaBomber
Wilson Gouveia: Jimmyy201
Yoshihiro Akiyama: ShapelessHorror
WW:
Anthony Johnson: PastaPadre
BJ Penn: jaykilla1521
Thiago Alves: Muhammad Ah Lee
Georges St-Pierre: MultiThreat
Jon Fitch: AlAn Kidd
Matt Hughes: Lucky Lacy
Diego Sanchez: PENAPENA
Josh Koscheck: atlhawks2
Dan Hardy: xPatch TheGam3
Karo Parisyan: Nap18
LW:
BJ Penn: jaykilla1521
Tyson Griffin: KcKing2
Diego Sanchez: PENAPENA
Gray Maynard: Chad182
Nate Diaz: Jonb95825
Clay Guida: bLaCk ZiPpO
Terry Etim: DarthObvious
Kenny Florian: Ovfd55
Frank Edgar: colbyk5
Joe Stevenson: DrunknDreamTeam