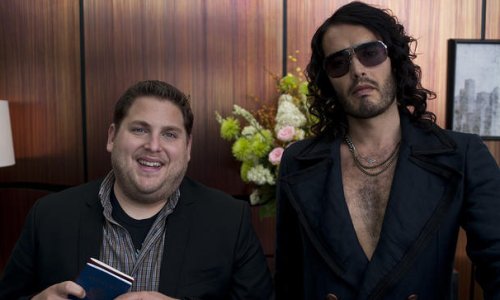 Two new comedies, a sci-fi horror entry, and a family film arrive this weekend in hopes of grabbing the top spot at the box office away from Shrek Forever After. All four may end up falling short though as none of them seem to have have break-out potential.
Get Him to the Greek is expected to be the strongest performer of the bunch. The film has seen a significant marketing push and has the tie-in of being a sequel/spin-off to Forgetting Sarah Marshall. Unfortunately I thought the movie was a mess (review here) but it will still likely bring out moviegoers looking for an in-your-face type of comedy. Reviewers have trended positive with the film currently 73% on Rotten Tomatoes though it seems to be one of those comedies that someone will either buy into completely or they won't at all. Because of that I wouldn't expect it to have much staying power over the coming weeks. Get Him to the Greek could pull in about $18 million this weekend.
It has been a while since a good horror film hit theaters and Splice fills that void. I wouldn't actually call it a horror film, it is more of a sci-fi thriller, but it should appeal to that crowd nonetheless. I enjoyed the film quite a bit but would find it hard to recommend despite that (review here). The advertising has pushed it as a horror movie without really giving away the twists that the audience will experience in the process. This will be a movie that many will like, many will hate, and others will be confused about whether they liked it or hated it. Because of that it will be interesting to follow the word-of-mouth. Reviews though have been surprisingly good with it currently sitting at 71% positive. That could bring out some people who weren't intrigued by the premise alone. Splice could open with around $15 million.
Going for the younger crowd is the hybrid CG-live action Marmaduke based on the comic strip. Not unexpectedly the film is getting ripped by critics and the advertising has made it look anything but funny. As with all family-oriented films the potential is there for it to do at least reasonably well. Those not interested in Shrek or having already seen it may look at Marmaduke as a suitable time-waster. Look for Marmaduke to make about $13 million this weekend.
It is never a good sign when a film is hidden from critics. Killers is one of those films, and though it touts two 'name' stars in Ashton Kutcher and Katherine Heigl and has had some amusing trailers and commercials, expectations are really flat on this one. The most comparable recent film might be The Bounty Hunter which opened with $20 million but that seemed to have more going for it at the time. Killers could open right around $13 million.
Opening Predictions
Get Him to the Greek: $18 million
Splice: $15 million
Marmaduke: $13 million
Killers: $13 million