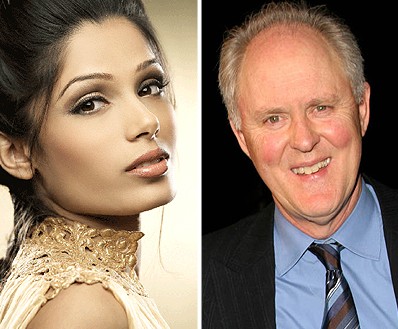 Since the announcement last month that a Planet of the Apes prequel was in the works, we haven't heard much else. We do know that James Franco will play the lead role, and now The Hollywood Reporter is reporting that Frieda Pinto and John Lithgow have joined the cast.
Rupert Wyatt will direct the feature, which focuses on a scientist (Franco) who has been working on a cure for Alzheimer's that is being tested on apes. The test subject named Caesar evolves rapidly, and the scientist takes him home to live with him and protects him from cruel doctors.

Lithgow will play Franco's Alzheimer's-stricken father. Pinto is the movie's female lead, a primatologist.
The cast seems to shaping up nicely. Pinto is best known for her work in Slumdog Millionaire. Lithgow is probably a bit more popular. He's been in movies and T.V. for several years. His recent work on Showtime's Dexter, earned him a Golden Globe. Opinions on the new film seem mixed. Tim Burton's 2001 remake might have soured some on another 'Apes' film. Rise of the Apes will release on June 24th 2011.