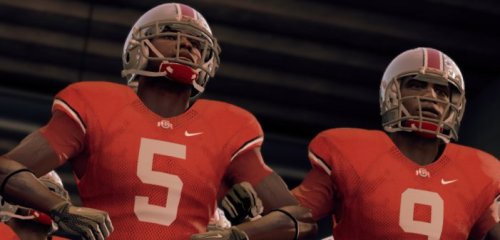 Game Informer has posted up the first review for NCAA Football 11 giving it a 90 (with 87.5 as a second opinion). Last year GI gave the game a 8.5 so what your personal opinion of NCAA 10 was and how it matches up to that score could be an indication of how much weight to give it. I've seen the "embargo" talk bandied about but typically gaming companies will allow reviews with scores of nine or higher to go up early and that is probably what took place here. You won't see any lower score reviews out before any review embargo that may be in place is lifted.
As is the case with the early UFC 2010 reviews very little of note was discussed regarding online play including Online Dynasty which is a curious exclusion given its prominence. It is fair to question the legitimacy of any review that overlooks online play. At least in this case NCAA has performed well online the past couple years and Online Dynasty hasn't changed much outside of the website functionality. Not to mention that online is at least available for reviewers to evaluate as opposed to UFC which kept it turned off. Thankfully IGN came through with a detailed look at Online Dynasty and how well the mode has been working so far. Outside of some website issues which could potentially be fixed it sounds as though everything is running smoothly.
What are your thoughts coming off the first review for NCAA Football 11 and the Online Dynasty preview? As always feel free to leave them in the comments!