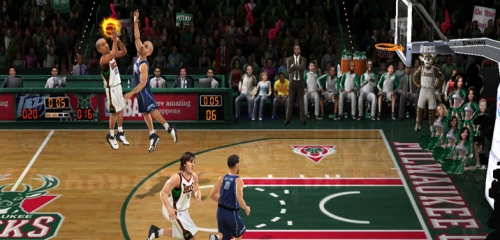 We've known for a long time now that NBA Jam would eventually be coming to the 360 and PS3 via XBLA and PSN. The general expectation had them arriving sometime next year given the focus that has been given to the Wii version and it being described as console exclusive. Could NBA Jam be coming sooner than expected to the 360 and PS3 though? Gamerbytes has spotted that the German USK rating system cleared through the 360 and PS3 versions of NBA Jam. That could imply arrival sometime this year though it remains an uncertainty.
NBA Jam could potentially fit as a holiday release considering it is a downloadable title though it could just as well slip into 2011. EA has cleared the slate and has nothing formally announced releasing this year after EA Sports MMA on October 19th. It makes sense that they would not release NBA Jam on the first day possible, October 5th, as they would be competing with themselves. Not just because NBA Elite 11 will be hitting stores on the 360/PS3 but also due to the release of the Wii version of NBA Jam on that very day.
Obviously EA would rather make $50 on those sales of NBA Jam (and with a product that may not even have online play) as opposed to the the $15 or $20 they'll be able to charge for the downloadable version which could even be regarded as superior due to the graphics and online functionality. Following it up a month or two after the Wii version could work to clean up in sales but regardless they will need to put it sometime during the NBA season to capitalize on a higher level of interest towards the sport.