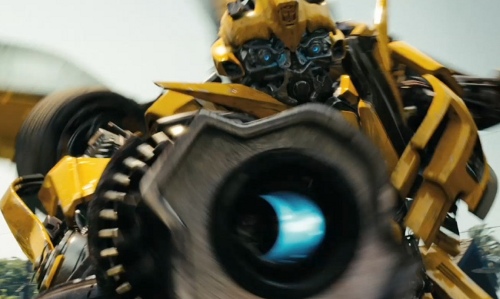 Chud has posted the details of the opening minutes of Transformers 3. Naturally these are spoilers so if you want to go into the film 'fresh' you might want to skip this post. There aren't any major plot spoilers or details revealed, but the element of surprise would be gone. If you'd still like to find out how the movie opens, you can read it after the jump.
There's a disturbance on the Moon. A robot shaped disturbance. Scientists on Earth see this and the information gets passed up the chain of command. In the White House men in black suits are breathlessly running through the halls, and they burst into the Oval Office. The president is behind the desk, back turned to the door, looking out the window. One of the men tells the president, 'Sir, something's happened on the Moon!' The president turns around.

It's John F. Kennedy.

Yes, the opening scene of Transformers 3 takes place in 1961 or 1962. The gist of the story has to do with the Transformers' involvement in the space race, and this is the reason why JFK was so hot to make sure America was first to the Moon. It sounds like a fun direction; there are a lot of stupid conspiracy theories about Neil Armstrong et al meeting ETs on the Moon, and this is a fun way to play with them. I hear this was Spielberg's idea, and it really does sound like something he'd come up with. If you're like me and you like the Spielberg-influenced Transformers but hate the mostly Spielberg-free Transformers 2, this is all good news.