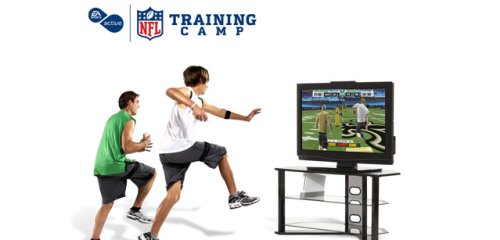 Another in a line of new title announcements from EA today with EA Sports Active NFL Training Camp. This was actually rumored back at the end of last year and has now come to fruition though it appears it won't include a football shaped peripheral. Included are 70 drills and challenges designed to improve strength, power and conditioning, as well as reaction skills, agility and first step quickness, which are key areas NFL players focus on. Users can choose their favorite team, step into a stadium and train alongside their favorite players.
Developed in collaboration with NFL strength and conditioning coaches, users will experience the thrill of competition while challenging friends and family in authentic NFL football drills. EA SPORTS Active NFL Training Camp with Total Body Tracking uses the included heart rate monitor and wireless motion tracking to provide a challenging workout and help deliver measurable results. It will link to the EA SPORTS Active online hub where users can share training results and challenge others to beat their personal best, as well as track progress toward specific fitness goals.
With the success of EA Sports Active it is no surprise to see the company branch out and even begin use league licenses for exercise games. This won't be the only one on the market either. THQ is currently developing "UFC Trainer" for the Wii, 360 Kinect, and Playstation Move. EA Sports Active NFL Training Camp will release on the Wii on November 16th for $100(?). No mention is made of a version utilizing Xbox Kinect or Playstation Move being in the works.