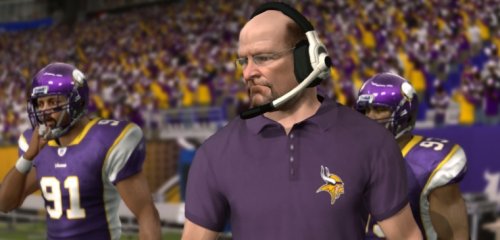 The news today is that Brett Favre has decided to retire, and while everyone remains skeptical it does bring into question how it will be dealt with in Madden 11. Favre is on the default roster but should he actually go through with retirement he would be removed via roster update. EA Sports has released a statement which seems to imply he won't be removed immediately (which could be the release day update) unless he comes out and states he has chosen to retire and maybe even until the official paperwork is filed.
We are monitoring the situation, and will detail our plans should Brett Favre officially announce his retirement from the NFL.
Clearly there will be a big effect on the potency of the Vikings offense in Madden 11 depending on whether Favre is at the helm or not. Gamers would have to turn to either Tarvaris Jackson (overall 71) or Sage Rosenfels (overall 69). Jackson has been a decent performer in Madden in the past given his speed which this year comes in at 83 with an 85 in acceleration. That mobility would have to make up for his accuracy which is just 69. Both Jackson and Rosenfels take big hits in awareness compared to Favre, however that rating is essentially meaningless for user controlled players. One other thing to consider is if Favre is not an active player he can not be included in other areas of the game such as Madden Ultimate Team.
What do you think of the news that Brett Favre is supposedly retiring and what that would mean for Madden 11? Leave your thoughts in the comments!