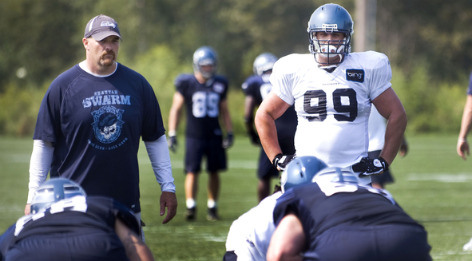 I came across this story earlier today and thought it was interesting enough to pass along. Defensive tackle Quinn Pitcock, an All-American at Ohio State and 2007 third round draft pick of the Indianapolis Colts suddenly retired at age 24 after his rookie season. Yesterday he was signed by the Seattle Seahawks and now details on what led to his retirement and how he has since overcome those difficulties have emerged. Pitcock suffered from depression which led him to retire and shut himself off from the world resorting to video games to pass the time.
"I just stayed in my apartment and did nothing."Well, not exactly nothing. "I ended up using video games as my out, I got sucked into that," he said. "I got lost to the world."….."I'm actually going to start some kind of charity to help kids who are addicted to video games," he said. "I got to a point where I broke and burned many video games trying to quit. But that was my outing, so once I got rid of that and realized I could start eating healthy and exercising and do all that, I got back on track."
I don't see the point of his story as being anti-gaming, but instead shows just how crippling depression can be and in his case it led him to shelter himself and use video games as an outlet. Needless to say any addiction can be severely detrimental and judgment of priorities can be lost. In this case Pitcock is getting a second chance and can use his experience to educate others who may be facing similar troubles.