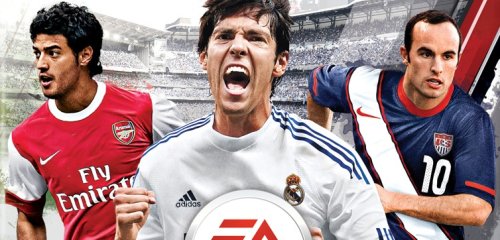 EA Sports has announced that Landon Donovan of the Los Angeles Galaxy will be featured on the cover of FIFA 11. He shares the spotlight with Real Madrid's Kaka and Arsenal's Carlos Vela.
FIFA Soccer 11 reinvents player authenticity – on and off the ball – for every position on the pitch. All-new Personality+ sees individual abilities reflected in game, allowing clear differentiation for every player. FIFA 11 also introduces new Pro Passing, where pass accuracy is determined by a gamer's ability on the control pad, and player skill, situation and urgency on the pitch, and 360° Fight For Possession, which delivers true freedom in man-to-man interactions, transforming physical play from individual lateral jostling to full 360° collisions involving multiple players.
It comes as little surprise that Donovan would get the cover nod even though he has twice before (FIFA 2003 and FIFA 07). He is certainly the most recognizable national star and was responsible for some incredibly dramatic moments in the World Cup. EA is striking while the iron is hot considering interest in the sport is at an all-time high thanks to the World Cup and MLS continues to grow in popularity.