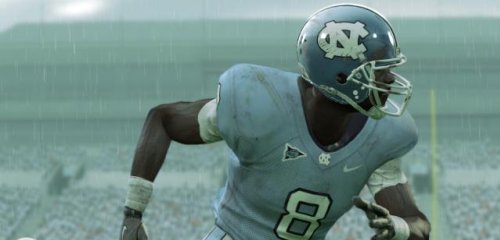 NCAA Football 10, along with MLB 2K9, were only two franchises last year that saw sales drops. This year though we've seen that become a trend with stunningly significant skids hitting UFC Undisputed 2010 and Tiger Woods 11. The next in line that could have been threatened was NCAA Football 11. Positive word-of-mouth from both gamers and reviewers though would seem to be the primary factor in NCAA Football 11 not only holding off a drop-off but actually seeing overall sales growth.
For the opening month of July NCAA Football 11 sold 368K copies on the 360 and 298.8K on the PS3. In total that represents a move up of 8% compared to NCAA Football 10.
The breakdown by console shows that sales on the PS3 rose and accounted for all of the growth. The PS3 version jumped 20% while the 360 version fell by 2%. That can probably be attributed to marketing that focused on the PS3 version and continued pick-ups of former PS2 players finally making their way to the PS3.
While EA Sports is likely pleased with the 8% rise in sales for NCAA 11 it continues to bring into question whether there is potential to expand beyond those consumers who seem to buy it on a year-to-year basis. Despite console sales numbers increasing at a rapid pace the NCAA franchise has been largely stagnant throughout this generation. NCAA 11 numbers are up only 4% compared to NCAA 09. At least though it is back on an upward trend.