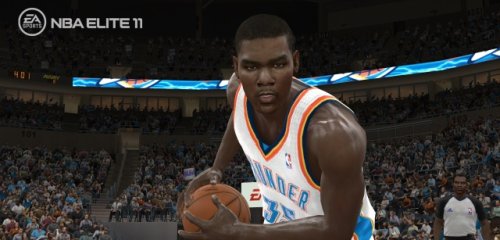 With the major changes that have taken place that make up NBA Elite 11, it has been noteworthy that no actual gameplay video has appeared. Understandably that has made those following the game nervous as EA Sports' MO the last few years has been anything but to shield their games from being seen.
Over at Operation Sports a thread has been ongoing discussing NBA Elite 11 which is actually out on display at "Elite 24" a high profile high school basketball event. Those who have been able to attend have had the opportunity to get hands on with NBA Elite 11 as well as NBA Jam. So the first impressions of the game along with the very first in gameplay videos is now here.
Needless to say that early thoughts on the game have been less than impressive. Some general reaction has been that it is difficult to pick up and play, the action is chaotic and out of hand, that it is a dunk-fest, that the real-time physics have been pretty much non-existent, many animations are awkward, and that shooting is either tough to get or can become automatic. There are variables to consider though and ultimately the demo and directly captured footage will provide more insight. However this is what we have to work off for now. Seeing Carlos Boozer dunk from the free throw line (:44 of vid #3) doesn't require much of a breakdown.
Check out the thread over at OS and follow beginning here which is where the impressions really start to roll in. Below is the first footage of the game in action. The videos are rough but that comes with the territory of filming in an environment such as this one. As always feel free to leave your thoughts in the comments!