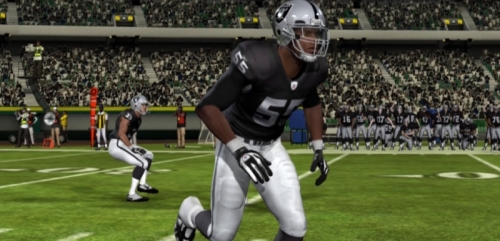 EA Sports has released some statistics as to how Madden 11 has been played in the opening weeks following release of the game. A little effort has to be taken though to ultimately judge the significance of the numbers they've provided.
Madden NFL 11 gamers have averaged more than two million online connected game sessions each day. Nearly 20 percent of all online play has been logged on a brand new feature, Online Team Play. The mode allows fans to go online and play 3-on-3 with, or against, their friends.
With Online Team Play I expect that number to tail off a bit, the mode is quite fun but doesn't really have the hook to keep people coming back. However 20% seems like it is a good result and establishes the mode as something to continue improving. Madden has always been perceived as a head-to-head game, one dominated by ranked games when it comes to online play. To bring in a cooperative mode after seven years of just head-to-head and have it pull in 20% online is a good sign.
The innovative new GameFlow play calling system in Madden NFL 11 has been a hit, with 85 percent of players having used the new feature that streamlines play calling and shortens overall game length for a more accessible experience. Says ESPN.com: "GameFlow is a complete game-changer."
You really have to look at the specific wording in press releases and in this case "having used" GameFlow may not be the same saying 85% of all plays continue to be executed via GameFlow selection. We also don't know if this means just the initial setting or if it counts in games that have GameFlow on and how many times a regular play is chosen through the playbook. I don't think a number in that range is unreasonable to expect though. Most people don't mess with default settings. The general sense I get regardless is that GameFlow has been received well by a majority of gamers.
On the strength of the Madden NFL Ultimate Team game mode being released this year at launch, digital revenues for Madden NFL 11 are up more than 200 percent year-over-year.
No surprise here given the circumstances. Madden Ultimate Team drives the biggest portion of digital revenues and was included in Madden 11 right off the bat. Madden 10 didn't get the Madden Ultimate Team mode until five months after it came out. So Madden 11 digital revenues include MUT, DLC boosts/cheats/online scouting, and the "Online Pass" for those who didn't buy the game new vs Madden 10 with its boosts/cheats. Still shows how much EA relies on digital revenues to pad the bottom line.
Madden NFL 11 is the #1 selling game in North America in August – sales are projected to be up approximately 5% year-over-year across all platforms for the month.
Have to wait for the official NPD numbers (I believe will be out on 9/9) to see how Madden 11 is faring this year compared to last with the 360/PS3 versions. EA has it in their best interest to provide positive spin and here we don't know what they are including into a 5% increase and what the breakdown by platform will be.