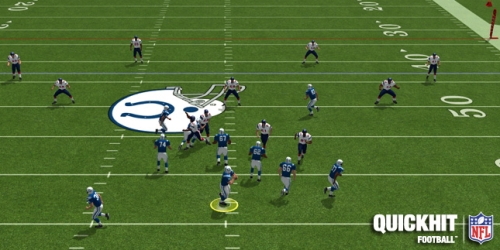 QuickHit Football has now relaunched as with the NFL integration, as the free-to-play browser based game now incorporates team logos, colors, uniforms, stadiums, and other NFL branding. Washington Redskins quarterback Donovan McNabb, defensive lineman Albert Haynesworth, and Tennessee Titans running back Chris Johnson have signed on. Along with Randy Moss and DeMarcus Ware they make up the full slate of current NFL players which is capped at five. The game also includes a bunch of legends and handful of coaches.
We now also know the structure for the new version of the game. While those who already have teams are able to keep them, starting anew and creating a squad begins with choosing an NFL team to utilize their visual package. QuickHit has been based on that free-to-play model and supported by microtransactions and that remains an option. They are now adding in a subscription fee of $5.95 a month or a discounted $47.95 for a full year in order to view the game playing out in console-like 3D fashion, see the removal of banner ads, and provide bonuses to improve teams at a quicker rate. If that full package is not of interest, for $14.95 the new 3D view can be purchased which will not carry with it an expiration.
QuickHit is more deep and much more involved than the recently launched Madden NFL Superstars on Facebook. I'll be working through the updated game from scratch and will be posting impressions in the near future. For those of you who try out QuickHit NFL (website) leave your thoughts in the comments!