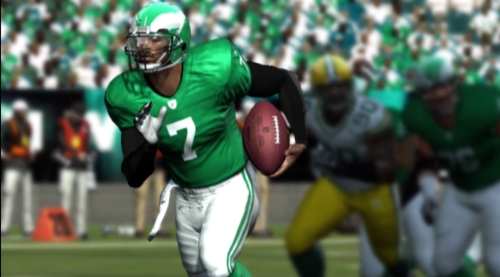 The latest patch for Madden 11 introduced the Madden Moments Live feature which will deliver new moments throughout the NFL season. Between two and four new Madden Moments will be added every week based on the outcomes of games played. The "moments" will be available for purchase individually (2000 coins/67 cents), the weekly set (5000 coins/$1.67), or as full season pass (60000 coins/$20).
The potential Madden Moments for this week could come from the following games:
Sam Bradford in his professional debut trying to lead the Rams to a victory in the final minutes at home against the Cardinals.
The Lions looking to pick up their first road win in years without having the go-ahead TD overturned in highly controversial fashion.
The Steelers-Falcons going to overtime.
Philadelphia trying to rally behind Michael Vick against the Packers.
The Cowboys make a final drive while trying to avoid any Alex Barron holding or false start calls to beat the Redskins.
What do you think would make up a good set of Madden Moments from week one? Keep in mind there should be a variety of scenarios, no one wants every moment to simply require a score on the final drive of the game. Leave your thoughts on what you'd like to see delivered with Madden Moments Live in the comments!