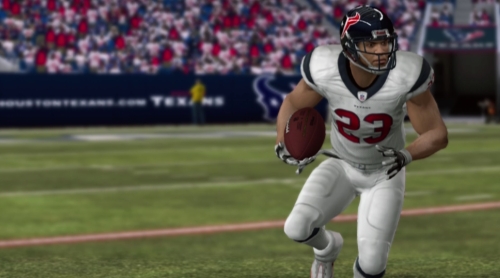 It was an entertaining opening weekend to the NFL season as several games went down to the wire and some heavily hyped teams came crashing back down to earth. Last week's roster update was primarily intended to get in the most accurate 53 man rosters possible and didn't focus much on adjusting ratings. This first update of the regular season should see more in the way of ratings changes as the first game and preseason has established a better sense of the level players are performing at and their roles with their respective teams.
Being at a game I wasn't able to keep a close watch on all the developments throughout the league except for the highlight and stats, but guys like Texans RB Arian Foster, Packers LB Clay Matthews, Chiefs RB Jamaal Charles, and Eagles QB Michael Vick are likely to see bumps up. From the Seahawks-49ers game those who clearly deserve ratings bumps (after carryover from strong preseasons) are WR Mike Williams, DE Chris Clemons, and CB Marcus Trufant while 49ers QB Alex Smith should definitely see a decrease. Other players looking at falling ratings include Saints K Garrett Hartley and Cowboys OL Alex Barron.
Injury wise the Eagles got hit hard as out for the year are both the starting C Jamaal Jackson and FB Leonard Weaver. Also lost for the season are Jets DT Kris Jenkins,  Packers RB Ryan Grant and DT Justin Harrell, and Texans DE Conner Barwin. Lions QB Matthew Stafford is out for an extended period of time and Colts S Bob Sanders is looking at potentially being out for the season as well.
With the next roster update likely to be out late this week what are you hoping to see change? Leave your thoughts in the comments!