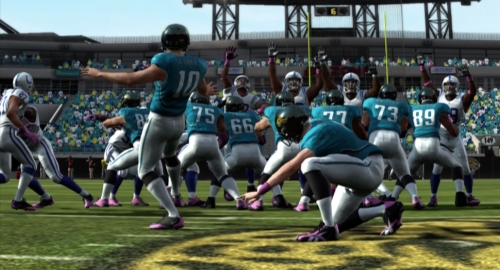 EA Sports has released the week four set of Madden Moments Live and this set of "moments" is free due to sponsorship by Verizon Wireless. Three games are featured with the Jaguars dramatic upset over the Colts, the Bengals trying to avoid getting beat by the Browns, and the Broncos making a late drive to beat the Titans on the slate this week.
Colts at Jaguars: Scobee Dooby Doo – When we say that Madden Moments LIVE puts you in the shoes of the players, we mean it literally…when we're talking about the steel toe of Jag's iceman Josh Scobee. With the football, a timeout, and a clutch kicker warming up on the sideline, control Jacksonville and drive into Scobee's range. Find a way to deliver that win to the Jaguar fans. Bonus points if you can do it with a 50 yard field goal or longer. Afterwards, mimic his celebration by running around your house.

Bengals at Browns: The Battle for Ohio – Riding an epic performance from Terrell Owens, the Bengals found themselves in a position to steal a win against their in-state rivals, the Cleveland Browns. Cleveland ultimately got the victory and spoiled TO's big day, but imagine how great his post-game interview would've been had they secured the win! With Madden Moments LIVE, you won't have to. As the Bengals, continue TO's record day, finish it off with a win, and don't forget to bring the popcorn.

Broncos at Titans: Costly Penalties – The Tennessee Titans defense has been called a few names since Sunday, but everybody knows they're tough. Needing a touchdown with little time to play, Kyle Orton led the Broncos to a road win, thanks to some very costly penalties on the Titans' defense. This Moment puts you in charge of the Broncos on that final drive… Can you leave town with the win, and without their help from the penalties?
Madden Moments Live can be purchased from the Madden 11 menu on an individual basis (2000 coins/67 cents), as a full weekly set (5000 coins/$1.67), or as full season pass for all released throughout the year (60000 coins/$20). Again though the week four set of "moments" is completely free to download.