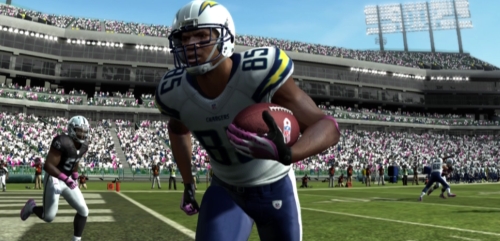 This week's Madden Moments Live are being provided for free due to sponsorship from Verizon Wireless. The three NFL games featured resulted in the underdogs coming out on top but the theme here is to change the outcome and pull off the wins with the favorites.
Packers at Redskins: Off the Upright – The Redskins managed to tie up the game leaving Aaron Rodgers a minute to go to work. Unfortunately for the Packers, a last second field goal attempt hit the wrong side of the upright as time expired. The Redskins defense shined in OT giving the Skins a huge upset win. Try that final minute of regulation again and don't let this game go to overtime. Bonus points for a 50+ yard FG.

Buccaneers at Bengals: Carson! Not Again! – The Bengals had this game in the bag as they got into range to kick a game-winning field goal. Carson Palmer then tossed an ill-advised ball on 3rd down and gave the Bucs a tiny window to steal a road win. Spoil the Bucs day by avoiding the turnover on that final Bengals drive. Wind down the clock, score any points, and send the Bucs home with a loss.

Chargers at Raiders: Ride the Rivers – The Chargers have treated the Raiders like the AFC West doormat the past seven years, winning their last 13 consecutive meetings. With the Raiders up by one point and a little over three minutes left in the game, take control of Philip Rivers and lead the Chargers on a game-winning drive to bring home a 14th straight victory against the divisional foe!
Madden Moments Live can be purchased from the Madden 11 menu on an individual basis (2000 coins/67 cents), as a full weekly set (5000 coins/$1.67), or as full season pass for all released throughout the year (60000 coins/$20). Again though the week four and now week five sets of "moments" are completely free to download.