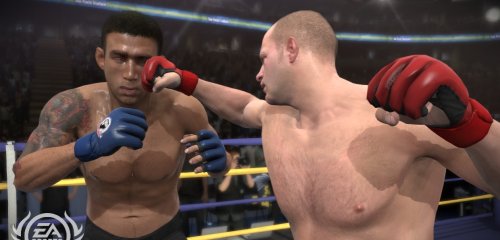 Continuing with the series of Xbox 360 hard drive installation evaluations I've gone through and compared several areas of EA Sports MMA based on loading times from the disk vs the hard drive. EA Sports MMA now joins the NCAA Football series as the biggest culprits of poor loading times in the sports genre. Some of the wait times are bad enough that they nearly could have caused the game to fail certification.
The worst areas come with loading into saved careers which takes a frustrating 48 seconds, leaving a fight and getting back to the menus at an outrageous 53 seconds, and even just sitting for 8 seconds after choosing a weight class for the available fighters to select from to load. Installing to the hard drive does provide some much needed relief however.
Install time- 10:43
Install size- 6.3 GB
Loading Times
Boot to main menu- 62 seconds disc vs 50 seconds HDD (12 seconds)
Load into fight now- 36 seconds disc vs 23 seconds HDD (13 seconds)
Leave fight now to menu- 53 seconds disc vs 16 seconds HDD (37 seconds)
Load into saved career- 48 seconds disc vs 37 seconds HDD (11 seconds)
Load out of career to menu- 32 seconds disc vs 24 seconds HDD (8 seconds)
Load fighter select after weight class – 8 seconds disc vs 3 seconds HDD (5 seconds)
Those are pretty significant savings and even provides the biggest improvement in the history of doing the loading time install evaluations with the 37 seconds saved in leaving a fight and reaching the main menu. It is unclear why the wait is so lengthy when loading from the disc. As always installing to the hard drive is recommended for the reduced noise and wear and tear put on the system in addition to any improvements seen in loading times.