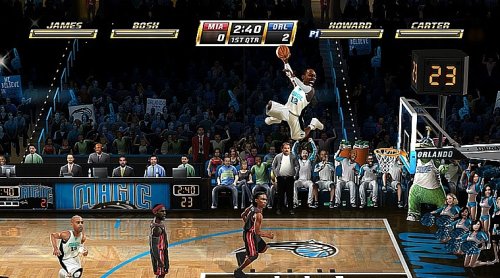 Retailers are now listing NBA Jam for the Xbox 360 and PS3 and in the process have revealed the release date and price for the game. It was just a week ago that we learned NBA Jam HD would be a full retail release and not a downloadable offering. Many expected the game to end up being sold for the standard $60 given that the Wii version went for $50 and did not include online play or the HD graphics.
NBA Jam will go for $50 for the 360 and PS3 matching the Wii version. Even at $50 though it could be a tough sell given that EA Sports had framed NBA Jam as being "free" in NBA Elite 11. This however presumes that consumers were actually looking at NBA Jam as a bonus and not the main selling point of that package.
As earlier speculated the game is set to release on Tuesday November 16th. It will include everything the Wii version had such as Remix mode, but to go along with that online co-op play has been added and Remix mode will also be online. Update: New screenshots and news that even more modes will be added in a free patch in December. Continue on for the full feature list and leave your thoughts in the comments!
An Enhanced Original! – EA SPORTS' version of NBA JAM has the off-the-charts fun factor of the original with updated gameplay that looks and feels better than ever – in full HD!
EXCLUSIVE TO Xbox 360 & PlayStation 3 – Play Online! – Play Classic 2-on-2, Co-op Team Play, and Remix games ONLINE with a jam-packed progression system, unlockable challenges, and hundreds of rewards.
Classic Campaign… With A Twist! – As fans try to beat all 30 NBA teams in the Classic Campaign journey, they will face some extra challenges: secret 2 on 2 Boss Battles against NBA Legends!
Unlockables Galore! – Players of NBA JAM can earn and unlock more than 100 cheat codes, secret characters and legendary NBA players. Secret characters were a big part of the original and EA SPORTS is committed to keeping the spirit of past unlocks alive (wink, wink).
Many Ways to Play the Game! – Fans can play Solo, Versus (against another player) or Co-op (with another player against the AI) modes. No matter how you like to play the game, you will have tons of fun playing NBA JAM.
A True "Pick up and Play" Experience! – The control system is very simple for those new to sports games yet they also have enough depth to satisfy passionate gamers who seek challenge around every corner.