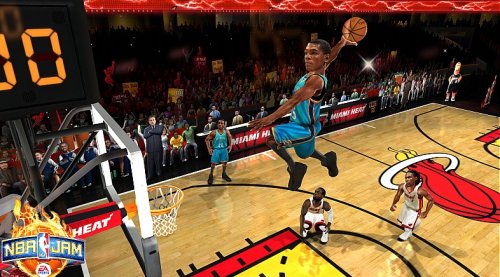 The basics regarding NBA Jam for the 360 and PS3 came out earlier this week. The game will be released on Tuesday November 16th for $50 and includes all the modes found in the Wii version. In addition the online play feature set has been expanded and even more will be delivered through a free patch coming in December.
Now EA Sports has released the full fact sheet for the game. It mentions all the online features including those that will be coming via the patch in December. Continue on to check out all the details and leave your thoughts in the comments!
General
Classic NBA JAM Gameplay – Enjoy fast-paced two on two action. Take on a defender, pull a spin move as he goes to shove you, and then throw an alley-oop to your teammate for a backboard-smashing dunk.
Two Campaign modes—–Want to experience some nostalgia? Then pop into Classic campaign mode to get exactly what you remember from NBA Jam. Looking for something a little bit different? Jump into the Remix Tour and experience an all-new twist on Jam – choose your own path to glory as you participate in game modes that you might not expect and face off against some of the biggest legends in the sport.
Player Likeness—Witness as the past and future collide in the visuals of NBA Jam. A distinct art style that screams Jam from the moment you boot up the game is mashed with the most realistic player likeness ever seen.
Unlock this or Unlock that – Complete Jam Challenges to unlock game modes to characters, to secret teams and Special Courts, NBA Jam will feature a whole lot of content for you to unlock as you progress thru the game..
Boss Battles—They are some of the greatest players to have ever played the game of basketball. They are legends that will not go down easy. They are standing in your way and you need to get by them. Jump into a unique take on the Jam franchise with boss battles. The best players doing what they do best. They will frustrate you with their skills, but you have to beat the best to be the best.
All 30 NBA Teams and more–The top three players from every NBA team plus over 100 unlockable teams, characters, privileges, and mascots.
Tim Kitzrow – The original voice that captured the attention of a nation is back voicing all the classic lines you remember from the original NBA JAM, as well as a host of new ones, including some created by fans
Multiplayer Goodness – Go at it alone or jump into the multiple multiplayer options available in NBA JAM.
Online
In December fans will be able to team-up locally and online to compete in Remix Games, including classic arcade hoop games like Backboard Smash, Domination Free-for-All, Elimination, and 21. Fans will also be able to make it a JAM Party online by inviting up to 3 friends to play.  Plus, gamers will be able to take on the world in Online Progression, levelling up through a series of challengers and secret online JAM Challenges to unlock online exclusive rewards and hidden content in the ultimate quest for global bragging rights.
Taking it ONLINE—NBA JAM brings all the trash talking off the couch and into your own virtual arcade. Play Classic 2 versus 2 NBA JAM online and measure your success on Friends and Global Leaderboards.
With 2-on-2 co-op play throughout the campaign mode, as well as 2-on-2 head-to-head competition, there are lots of ways to share the NBA JAM love.
Remix Games ONLINE—Play Classic 2 vs. 2 with power-ups, Backboard Smash, Domination Free-for-All, Domination 2 vs. 2, Elimination and 21 against friends and rivals online. Track results on Leaderboards.
ONLINE Progression—– Level up through a series of challengers and secret online JAM Challenges to unlock online exclusive rewards and hidden content in the ultimate quest for global bragging rights.
Jam Party ONLINE—–Create a party by inviting up to 4 friends to play in Unranked Classic and Remix games.