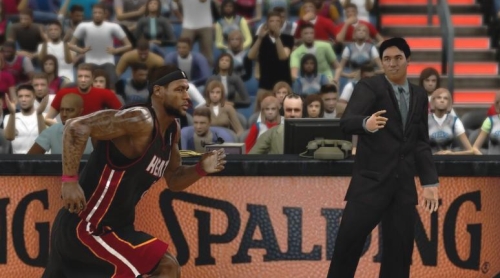 One of the most prominent features for NBA 2K11 is not functioning properly and new instances of console freezes are occurring. The issues appear widespread as many are confirming they are experiencing them. It is uncertain if the two issues are related however they seem to be based on a few quick tests.
NBA 2K11 loads up and is locked on to an NBA Today date of August 1st. In order to get it to display the proper date and list of games either start up a quick game and exit out or go to the features area and manually select "Living Rosters". The correct date then appears on the team select screen and the NBA Today games are listed however they do not include the features that are supposed to be present.
Playing any of the NBA Today games should introduce enhanced broadcast commentary, previews of upcoming games between quarters, around the league info and current stats, and a halftime show with scores from around the league. As of now none of those are found in the NBA Today games.
The freezing of the console occurs when entering a mode (such as Association or My Player) and then quitting out of them to return to the main menu. The game then freezes at that point in time requiring a console restart. It happens after showing that it is "loading roster from the hard drive".
The reason why the two appear to be related is that the freezing only seems to occur when the game is stuck on that August 1st date. Once the NBA Today for the current date is pulled up going into those modes and leaving for the menu does not result in a freeze.
I was really anticipating the opportunity to the full NBA Today experience with the start of the NBA season. I even  planned to do a write-up analyzing NBA Today with the Heat vs Sixers which would have incorporated the events of opening night (similar to what I did for MLB 2K10). Unfortunately there is nothing to evaluate at this time.
Hopefully this is not something that has to wait for the patch as that isn't being targeted to arrive until late November or early December. On the surface it would seem to be something that can be addressed server side. However if that is the case one begins to wonder why the game has been out for three weeks and it has yet to be taken care of.
Update: Hearing that NBA Today may essentially just need to be switched on but that won't happen until after the online stability patch arrives for the 360. That is supposed to be only days away so I'll continue to monitor the situation once that occurs.