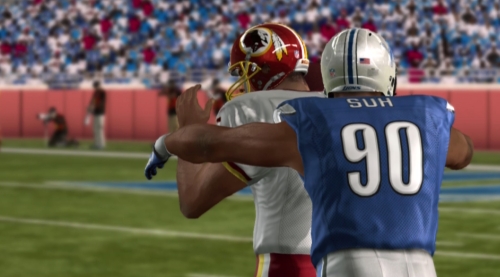 With just 11 games on the slate for NFL week eight there seemed to be further establishing of some player trends rather than breakout performances and that should be reflected in this week's Madden 11 roster update. Of course the biggest move will be to remove Randy Moss from the Vikings roster. If Moss were to sign elsewhere by Wednesday he could be added to his new team but things seem unlikely to progress that quickly.
Standout players to look at moving up include the combo of Jamaal Charles and Thomas Jones, Marcedes Lewis. Ndamukong Suh, Dwayne Bowe, and Brandon Lloyd. Likely to fall are a few prominent QBs that have struggled. Donovan McNabb has been mediocre and apparently Mike Shanahan has more confidence in Rex Grossman and now is even trying out JaMarcus Russell. Mark Sanchez has crashed a bit since an early hot start and has just one TD to four INTs in the last three games.
As always leave your thoughts in the comments as to players who should see a ratings bump or decrease in the next Madden 11 roster update!