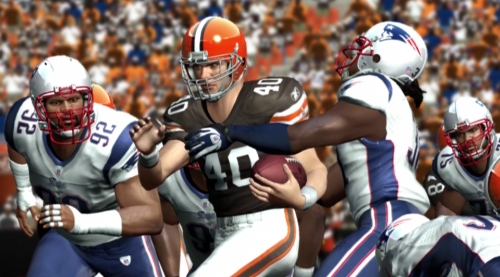 Halfway through the season and 6-2 is the best record in the NFL as shared by six teams. While the Giants and Falcons appear to be the best in the NFC with a few other teams on their heels there is a log jam at the top of the AFC but the coming weeks should provide the opportunity to see some separation there.
Despite the loss Terrell Owens put up big numbers for the Bengals and tried to will the team to a win while Chad Ochocinco looks like hes just checked out. With just about every receiver out for the Chargers Philip Rivers continued to put up big numbers with an unknown rookie Seyi Ajirotutu making some big plays. Michael Vick continued to look like a potential MVP candidate, Jacoby Ford helped the Raiders to a dramatic victory, Steve Johnson keeps producing for the Bills, Jacob Tamme is putting up Dallas Clark type numbers as his replacement, and Peyton Hillis continued to impress by going for over 184 yards in the upset of the Browns over the Patriots.
Jimmy Clausen will be taking over as starting QB for the Panthers with Matt Moore going on the IR. Anthony Gonzalez is headed to the IR for the Colts and the Bills are set to lose Roscoe Parrish and Andra Davis. Unfortunately it looks like Matthew Stafford will be done for the season as well.
As always leave your thoughts in the comments on what players and teams are deserving of increases or decreases in Madden 11 ratings!