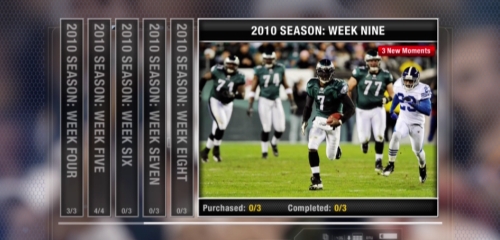 The set of Madden Moments Live for Madden 11 coming out of week nine of the NFL season features three late game comeback attempts. The Vikings made it back from down 24-10 to force OT against the Cardinals and eventually win on a field goal. The Colts were trying to pull off a road victory against the Eagles with a late drive that came up short, and the Jets surged in the fourth quarter in order to beat the Lions.
The tasks are to win as the Vikings in OT, lead a game winning drive with Peyton Manning and the Colts, and to start with the Jets down 10 in the fourth quarter and win the game.
Madden Moments Live can be purchased from the Madden 11 menu on an individual basis (2000 coins/67 cents), as a full weekly set (5000 coins/$1.67), or as full season pass for all released throughout the year (60000 coins/$20).