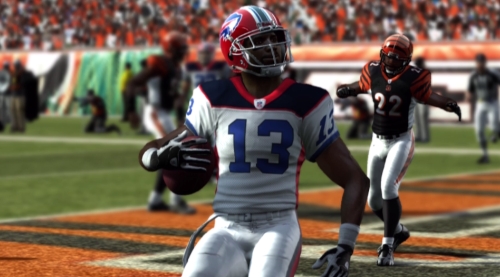 Though there will be no roster update for Madden 11 this week due to the holiday it is worth tracking player performance for the next one to come. That update will include developments from NFL week 11 and week 12.
Standouts from week 11 include Steve Johnson who has become a go-to receiver for the Bills. He has nine TDs with three of them in the comeback win over the Bengals. Dez Bryant has six straight games with a TD, Sam Bradford has eight TDs to just one INT in the last five games,  and Matt Hasselbeck has put up two of the best passing performances in years for the Seahawks. The combo of Mark Sanchez and Santonio Holmes for the Jets are on the rise as well.
Randy Moss continues a slide into irrelevancy which will only accelerate due to the QB situation. Moss has just one catch in two games with the Titans and now will have Rusty Smith as his QB as Vince Young heads to the IR. Brett Favre and Carson Palmer should be be knocked down considerably. Sidney Rice will be returning to the Vikings lineup after coming off the PUP list and Hakeem Nicks will be out several weeks.
As always leave your thoughts on what players and teams are deserving of increases or decreases based on performance for the next Madden 11 roster update!