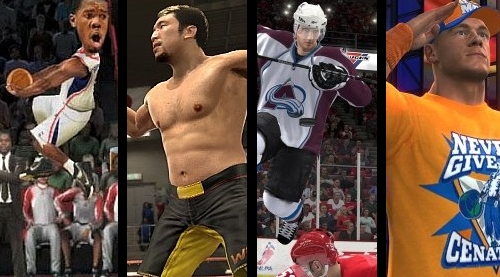 Having already detailed the doubling in sales that the NBA 2K series received with 2K11 and the drop-off that Madden 11 is now experiencing that leaves a handful of other titles and their sales to still discuss. It is largely disappointing news even when considering some of the following games didn't have huge expectations to begin with.
NBA Jam on the Wii sold less than 50,000 copies. Not only is the Wii starting to fade in console sales but it continues to struggle to move third party titles and any hope of ever doing so seems increasingly unlikely. Knowledge that NBA Jam was heading to the 360 and PS3 likely did not affect the sales all that drastically. Releasing it with no online component really hurt perceptions however. This is a game though that could hold well over the holidays as it fits as a good gift and some potential Black Friday sales could make it even more appealing.
EA Sports MMA turned in 45,000 sales in October. I've written in detail about how relatively weak sales does not necessarily signal impending doom for the hopeful franchise. This could very well be in line with internal expectations. The question now is whether it can build and pick up decent sales going forward based largely on word of mouth as it doesn't have the licensing behind it to drive interest. This is another game that will be seeing some big discounts for the holiday season but it remains to be seen if it will catch on even at a lower price point.
NHL 11 is being blamed for part of the decline in overall game sales this year as it appears it has fallen off more sharply than anticipated. This is yet another piece of evidence that the "Online Pass" is possibly hurting long term sales of games. That doesn't necessarily mean the companies don't end up making more money on each game however. I'll be taking a closer look at this in an upcoming article.
WWE Smackdown vs Raw 2011 saw a big decline from its 2010 release falling 36%. This follows up the big drop of over 50% experienced with UFC Undisputed 2010 that caused THQ to shift that series to bi-yearly releases. So it has been tough going for THQ which has struggled to stay afloat as of late. The curious thing is the company does not plan to back off WWE releases. They will not only continue SvR yearly but are introducing new WWE titles with the plan of having a secondary game out every year along with it.
Overall it has been a down year in sales for sports titles. NBA 2K11, FIFA 11, and MLB 10: The Show stood out as they received large gains. Some others opened up strong such as NCAA Football 11, NHL 11, and Madden 11 but then fell off sharply. Then there were the games that bombed year-over-year like Tiger Woods 10 and UFC 2010. Hopefully these companies are examining the trends and why consumers have supported certain games over others.