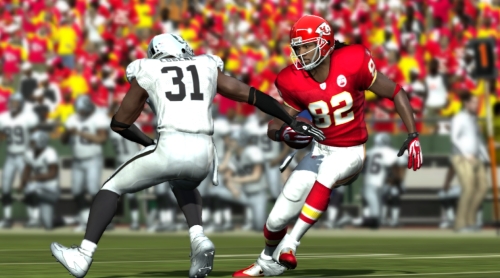 Due to going a week without a roster update for Madden 11 cause of the holiday, the update on Friday will include two weeks worth of adjustments. That should make for a significant shift for some players and teams as the NFL season heads into its final stretch.
Standout players in NFL week 12 included the Chiefs combo of Dwayne Bowe and Jamaal Charles, the Bears duo of Jay Cutler and Matt Forte, and Peyton Hillis who is now up to 13 touchdowns. Jacoby Ford deserves a bump at least in spectacular catch rating as well.
The most obvious hit should be to Steve Johnson, specifically in catch rating as he dropped five balls including the would-be game winner. He has become a playmaker for the Bills this season but that was tough to watch. Alphonso Smith was abused by the Patriots and Randy Moss continues his slide into irrelevance.
A bunch of players will be hitting the IR. Most notably Frank Gore, along with Bruce Gradkowski, Clinton Portis, Shawne Merriman, and Ellis Hobbs.
As always leave your thoughts in the comments on what players and teams are deserving of ratings boosts or declines in the upcoming Madden 11 roster update!