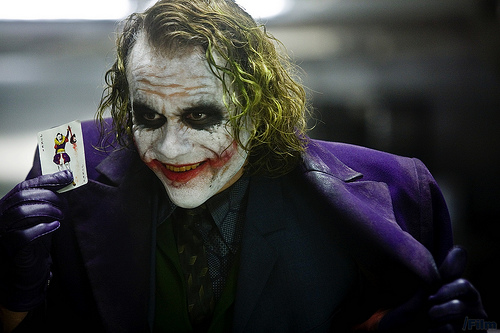 Despite director Christopher Nolan already stating 'The Joker' would not be in his new Batman film, rumors flooded the internet yesterday that he would be. Warner Bros. shot down those rumors again yesterday.
Firstly, yes, the original plan was to have The Joker play a small part in the third "Batman" movie. He would've been in a prison, and much like Clarice Starling and Hannibal Lecter, would've played an unlikely aide to his arch-nemesis Batman, who'd be on a mission to to stop… Two Face.
Personally, I'm glad to hear 'Joker' won't be in the new film. If he was implemented into the movie using old footage, that might work better than CGI. I remember watching 'The Sopranos' series when the actress who played Tony Soprano's mother passed away. They tried to use CGI to finish her role on the show and it just didn't look right. You could tell it was computer generated. Even though these 'Joker' rumors have been debunked twice, I'm sure there will continue to be speculation until something official.
The article also mentioned that Warner Bros. is working on a Batman vs. Superman film. Other than the studio being open to the idea, no other details were revealed.