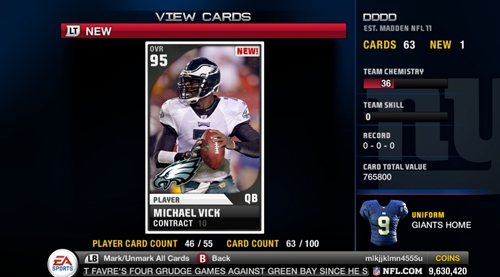 The Ultimate Team modes that debuted in the FIFA series and has since expanded out to Madden and NHL have always been slanted towards users who are willing to pay out of pocket for advantages. Unlike regular downloadable content in the context of a mode they present much more potential to bring in money and continue to do so over the course of months or even the whole year. It has been well known that Ultimate Team has been making quite a bit of money for EA and in doing so focusing on copies sold no longer can fully represent the success of a title.
Some interesting stats as they related to Ultimate Team:
•There are several individuals playing Madden Ultimate Team that have shelled out over $1000 to date. As of two weeks ago Kotaku reported that number having been 35 people. So there, between 35 people, EA has made over $35,000. Consider then that suggests many, many more have paid significant amounts but aren't quite as extravagant.
•There are many people who have paid over $700 buying card packs in FIFA 11 Ultimate Team. With FIFA 11 having become the highest selling sports game ever worldwide there is a huge pool of potential players for the mode.
•FIFA 10 made over $30 million through Ultimate Team.
•EA is expecting 20% of its revenue this year, approximately $750 million, to come from DLC and game downloads.
Don't expect to see the Ultimate Team modes split out to become their own games despite their success however. The reason why they have done so well is because of the large base of players that are exposed to the mode and can start for free and then get hooked. In many ways though they have become their own enterprises with staff driving them as full fledged projects.
Have you spent any money in the Ultimate Team modes? How crazy is it that people are paying so much on these modes? Leave your thoughts in the comments!