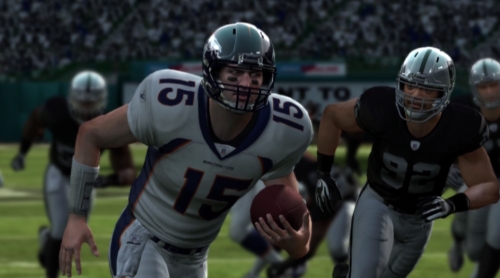 With only a couple weeks left in the NFL season teams are either fighting for the playoffs or for the future and there are likely to be more interesting changes in the way of personnel than ratings this week. Many more players headed to the IR and backup QBs are getting a shot to lead their teams.
The two most prominent changes came with Tim Tebow supplanting Kyle Orton in Denver and Donovan McNabb being sat in favor of Rex Grossman. Vincent Jackson has returned and is making a big impact. Tarvaris Jackson, Mario Williams, Tony Romo, Steve Smith of the Giants, Steve Hutchinson, Nate Allen, and Terrell Owens are all headed to the IR. The Eagles put up some stunning second half numbers in their comeback victory over the Giants with Michael Vick once again coming up big.
Will any team be willing to pick up T.O. or Randy Moss next season? Their careers may be over. This begs the question of why a player like Vick can skyrocket in ratings during a season but players don't seem to be able to fall at a similar rate. Moss shouldn't even be sniffing the 80s right now yet he sits currently at 89. He has only fallen six points from the default rosters before the season began. One could argue he has been as irrelevant as Vick has been spectacular. Vick has gained 20 points over the course of the season and likely will go up even more this week.
With the updates this year occasionally taking a topical approach to specific ratings changes don't be surprised to see a couple of those included this week. Giants punter Matt Dodge, who was chewed out by Tom Coughlin on the field, would be a prime candidate. There is also Patriots guard Dan Connolly who broke a return record for offensive lineman with an impressive display of moves making it 71 yards and nearly scoring. DeSean Jackson was recently boosted to a 98 in swagger and after even more showboating he'd seem like a fit for a 99 there.
As always leave your thoughts in the comments on what players and teams are deserving of ratings boosts or should see declines in this week's Madden 11 roster update!